Only 4 km away from the 2000-years-old town of Trogir and 12 km from Split Airport, you will find the TROGIR DIVING CENTER in a beautiful cove. Equipped with state-of-the-art diving equipment, the Center is located in the small tourist resort of Okrug Gornji, right by the sea.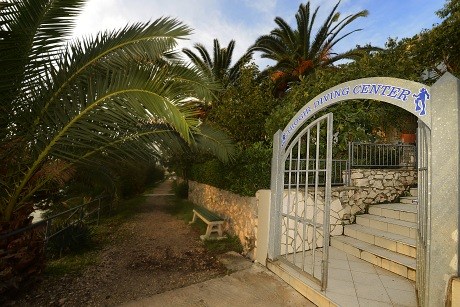 The diving center also has a comfortable classroom where we teach in Croatian, English and German. On the opposite side of the classroom is the information office providing information not just about diving, but about other benefits during your stay as well (excursions, rent-a-car, where to eat, town highlights…).
We own 4 boats, each of them have capacity for 12-15 divers. Our boats take divers for half-day and daylong diving trips every day. You can also dive in the cove, directly outside the diving center where we do discovery dive, check dive and diver training, and you are guaranteed to see a seahorse, a very rare animal.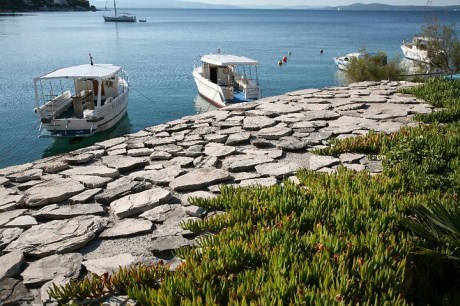 We have 80 sets of diving equipment made by renowned manufacturers, ensuring comfort and safety. The equipment is kept in one of our rooms, but we also have a special storage room for guests' equipment. We have 2 pools where you can wash and dry your equipment before you store it. In the compression station are 3 silent compressors made by the renowned German company Bauer, having capacities between 450 and 550 l/min and always ensuring sufficient amounts of high-quality air. We have more then 100 tanks.
The tanks have capacities of 10, 12 and 15 liters.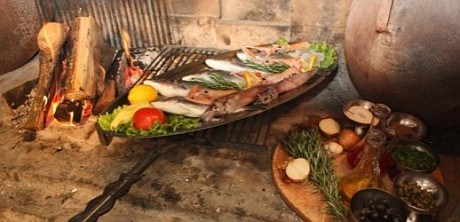 In addition, the center has a special offer – our tavern. We offer breakfast, lunch and dinner there, so you will be able to enjoy homemade Dalmatian specialties.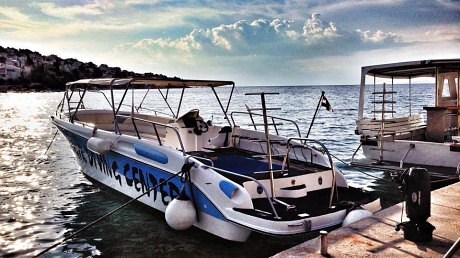 1988 Miše family established the TROGIR DIVING CENTER . We are proud to say we have beaten time because, after almost 30 years with you, dear divers, we have managed to preserve the tradition of diving and spending time with you at the TROGIR DIVING CENTER.
"Discover a new dimension of the world with us, search the space beneath the sea and enrich your memories by the preserved submarine wealth of the Adriatic."
TROGIR DIVING CENTER